Welcome!
Thank you!!!

We want to thank all of our customers--the new faces and the familiar faces--who shopped during our Waaaaay After Christmas sale earlier this month. We appreciate each and every one who came in to shop. We definitely feel that expanding the sale to three days and having a second cutting station in the back made the shopping experience for you and us much less frenzied than in previous years. We look forward to continuing this arrangement next year.

We hope you will continue to shop at Quilters' Paradise throughout the year and don't forget we hold a 25% off sale every month on Second Saturdays!
---

Winter Classes
We are in the process of adding more classes. Since our last newsletter a couple weeks ago, there are four more new ones! A couple are coming up quick, so be sure to check them out and sign up soon. The classes are through the collaboration between Quilters' Paradise and the Lumberyard Arts Center in promotion of Baldwin City's designation as Quilt Capital of Kansas. Classes will be held at the Lumberyard Arts Center unless otherwise noted.
New!
Decorative Rope Bowls -- Wed., Feb 22
Make a rope bowl using polyester rope that will be sewn into a bowl shape with instructor Cheryl Travis. Add a small fussy-cut picture of fabric into the center to complete your make-and-take project. Finished bowl would make a great holiday gift for Mom, Dad, Grandpa or Grandma, etc.
NEW!
Fabric Art for Adults -- Sat., Feb 25
Join Kathleen Thomas in making your own unique Fabric Landscape Art Piece. All supplies included in the class fee; except we ask you to bring your own fabric scissors. Please register by Feb 23.
NEW!
Introduction to Longarm Quilting -- Tue., Feb 28
This informational lecture/demonstration class with Sharon Vesecky is great for true beginning longarm quilters or anyone considering purchasing a longarm quilting machine.
Scared Stitchless to Free Motion Quilt -- Sat., Mar 11
Take the fear out of dropping your feed-dogs
in this introduction to free motion quilting on your domestic sewing machine.
Learn about needles, threads, marking tools, and more, plus pin your first sample project to begin quilting in class!
One Block Wonder Art Quilt--Wed., Mar 15
One Block Wonder quilts look complicated, but are actually quite easy to make and each one is completely unique! Six repeats of one fabric are cut into strips and then sub-cut into sets of 60 degree triangles. Despite being a quilt full of hexagons, the assembly has NO Y-seams!
NEW!
Barn Block Painting Workshop--Sat., Mar 18
Create your own painted quilt block that can be hung inside or out with Laura Davids. Please register by March 10.
Quilting Basics with Liz Granberg-Jerome will be offered on first Wednesdays from 10am to 3pm at the Lumberyard Arts Center.
Over the series you will make enough blocks to create a throw size sampler quilt. Bonus block patterns will be available in classes to make a larger sampler quilt.
Quilting Basics Part 1 -- Wed., Feb 1
Basic instruction on straight piecing and half-square triangles. Overview of rulers, notions, and lots of tips. Great for beginners or as a refresher for those who want to learn new tips and techniques!
Quilting Basics Part 2 -- Wed., Mar 1
Adding Flying Geese and Diamond in a Square units will add new variations to your quilting skills.
Quilting Basics Part 3 -- Wed., Apr 5
Take the fear out of sewing curves by adding Drunkard's Path curved piecing, plus a little machine applique with a Dresden Plate.
Quilting Basics Part 4 -- Wed., May 3
Putting it all together--finalize your blocks and begin a layout design while discussing whether to add sashing, cornerstones, and/or borders. Review of several alternate layout options, as well as discussion of batting choices, backings, and the quilting process.
Quilting/Textile Open Studio
Every Wednesday from 10am to 3pm
Plus, first Wednesdays from 6pm to 9pm
Lumberyard Arts Center

Free Open Studio for Textile Arts at the Lumberyard Arts Center from 10am to 3pm on Wednesdays, plus an evening session on first Wednesdays from 6pm to 9pm. The studio will be open to anyone wanting to work on quilting/sewing/textile/needlework projects. This time offers a great opportunity to finish up UFOs, get answers to questions about patterns, or just come enjoy stitching with friends. Sewing with friends is always more fun!
---

We're so glad you're here!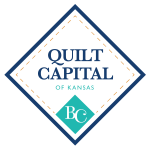 Check out our website for new arrivals, top sellers, and sale items!
These emails will give you the best and most recent information you need!
Keep in touch with us by visiting our website!
Don't forget to follow us on Facebook and Instagram, too!