Welcome!
Winter Classes
The following classes are scheduled to be held through the collaboration between Quilters' Paradise and the Lumberyard Arts Center in promotion of Baldwin City's designation as Quilt Capital of Kansas. Classes will be held at the Lumberyard Arts Center unless otherwise noted.
Log Cabin Heart -- Wed., Jan 25

Make this delightful scrappy log cabin heart block with Cheryl Travis. Beginner friendly!

Vintage Hanky Collage -- Wed., Feb 15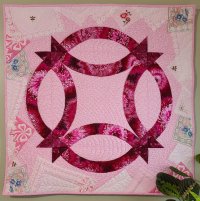 Create a lovely collage wall-hanging using fusible applique. The applique wedding ring is surrounded by parts and pieces of vintage hankies. Bring your own vintage hankies and linens or pick from Liz's collection available in class.

Scared Stitchless to Free Motion Quilt -- Sat., Mar 11


Take the fear out of dropping your feed-dogs in this introduction to free motion quilting on your domestic sewing machine.
Learn about needles, threads, marking tools, and more, plus pin your first sample project to begin quilting in class!

One Block Wonder Art Quilt--Wed., Mar 15


One Block Wonder quilts look complicated, but are actually quite easy to make and each one is completely unique! Six repeats of one fabric are cut into strips and then sub-cut into sets of 60 degree triangles. Despite being a quilt full of hexagons, the assembly has NO Y-seams!

Quilting Basics with Liz Granberg-Jerome will be offered in four parts on first Wednesdays, Feb 1, Mar 1, Apr 5, & May 3 from 10am to 3pm at the Lumberyard Arts Center. Over the series you will make enough blocks to create a throw size sampler quilt. Bonus block patterns will be available in classes to make a larger sampler quilt.


Quilting Basics Part 1 -- Wed., Feb 1
Basic instruction on straight piecing and half-square triangles. Overview of rulers, notions, and lots of tips. Great for beginners or as a refresher for those who want to learn new tips and techniques!

Quilting Basics Part 2 -- Wed., Mar 1
Adding Flying Geese and Diamond in a Square units will add new variations to your quilting skills.

Quilting Basics Part 3 -- Wed., Apr 5
Take the fear out of sewing curves by adding Drunkard's Path curved piecing, plus a little machine applique with a Dresden Plate.

Quilting Basics Part 4 -- Wed., May 3
Putting it all together--finalize your blocks and begin a layout design while discussing whether to add sashing, cornerstones, and/or borders. Review of several alternate layout options, as well as discussion of batting choices, backings, and the quilting process.

Quilting/Textile Open Studio
Every Wednesday from 10am to 3pm
Plus, first Wednesdays from 6pm to 9pm
Lumberyard Arts Center

Free Open Studio for Textile Arts at the Lumberyard Arts Center from 10am to 3pm on Wednesdays, plus an evening session on first Wednesdays from 6pm to 9pm. The studio will be open to anyone wanting to work on quilting/sewing/textile/needlework projects. This time offers a great opportunity to finish up UFOs, get answers to questions about patterns, or just come enjoy stitching with friends. Sewing with friends is always more fun!
---
The Lumberyard Arts Center Presents a
Quilt Capital of Kansas Event


Sankofa: Lessons Learned
by Marla Arna Jackson
Gallery Exhibit, January 13 - February 14
Community Conversation
Saturday, February 4 from 2:00 pm to 3:30 pm
Sankofa, in the Twi language, translates as "go back and get it." Marla Arna Jackson, a world-renowned visual narrative artist, quilter, and historian, reaches back to knowledge gained in the past and brings it into the present as an offering toward collective progress and healing. Her quilts highlight freedom seekers from the Civil War to Civil Rights era and beyond. Learn more about Marla in this article from the Lawrence Times.

Lumberyard Arts Center Gallery Hours
Tuesday-Friday, 1:00pm to 5:00pm
Saturday, 10:00am to noon
---
Get ready for our Waaaay After Christmas Sale!
February 9-10-11, 2023
[In-store only]
Save 40% off nearly all fabric during the Waaaay After Christmas Sale at Quilters' Paradise. The sale is being extended this year to 3 days and will be held
Thursday-Friday-Saturday, February 9-10-11
Hours: Thurs & Fri, 10am to 5pm
Sat, 10am to 2:30pm
Help us make space for new lines coming this spring & summer by emptying a few bolts. You can't beat the price! It's our once-a-year big sale!
Couple this with our monthly Second Saturday 25% Off sale and save on nearly everything else in the shop!
Saturday, February 11 save the 40% on nearly all fabric, plus 25% off nearly everything else in the shop--patterns, notions, rulers, books, thread, and more.
---
Two great shop hops coming up fast!

Ad Astra Quilt Shop Hop
Wednesday-Friday, March 29-31 from 9am to 6pm
& Saturday April 1 from 9am to 4pm

Eleven great quilt shops in northeast Kansas!
Lil' Red Hen, Paola
Overbrook Quilt Connection, Overbrook
Prairie Point, Lenexa
Quilted Sunflower, Spring Hill
Quilter's HQ, Olathe
Quilters' Paradise, Baldwin City
Quilting Bits & Pieces, Eudora
Yellow Dog Quilt Co., Pomona
Harper's, Overland Park
KC Maker Studio, Mission


All Kansas & Nebraska Shop Hop
April 1 through May 31, 2023

Over 80 shops in two states divided into seven regions to explore. Plan your trips with the regional maps and passport in the AKNSH magazines that will be available at participating shops in mid-February.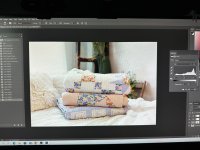 Here's a sneak peek that was shared recently on the AKNSH Facebook page of some quilts that will be in the 2023 AKNSH magazine! They include

Sharon Vesecky's design

idea that was turned into a pattern and sample by Liz Granberg-Jerome using the 2023 AKNSH fabrics. What a darling quilt and how exciting to be published!
---
2023 Ruler of the Year
KIS -- Bloc Loc's Kite in a Square
Stay tuned for new patterns and ideas to use the Bloc Loc Kite in a Square or KIS rulers in making fun quilts. Added to last year's TIS, you can make some great blocks and block combinations!
---
Would you like to have your own Longarm Quilting Machine?


Miami County Quilt Guild is holding a silent auction to benefit their Nada Thoden Memorial Scholarship Fund.



A gently used Handiquilter Sweet Sixteen Model QM30277




Includes table with side extensions, HQ Bobbin Winder, and manuals for machine.





Sealed bids will be accepted through February 28, 2023




Minimum bid is $750.00




Winning bid will be announced on National Quilting Day, March 18, 2023




Winning bidder is responsible for pick-up and transportation of machine.




Mail bids to:




Miami County Quilters Guild




PO Box 473




Paola, KS 66071-0473



---

We're so glad you're here!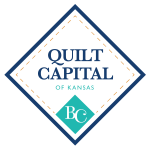 Check out our website for new arrivals, top sellers, and sale items!
These emails will give you the best and most recent information you need!
Keep in touch with us by visiting our website!
Don't forget to follow us on Facebook and Instagram, too!