Skip Navigation
Website Accessibility
Quilters' Paradise Classes and More!
our website
Welcome!
Quilters' Paradise will be Closed
Monday, September 5, 2022
in Observance of the Labor Day Holiday

---
Fall Classes


The following classes are scheduled to be held through the collaboration between Quilters' Paradise and the Lumberyard Arts Center in promotion of Baldwin City's designation as Quilt Capital of Kansas. Class will be held at the Lumberyard Arts Center except as noted.

Quilting Basics with Liz Granberg-Jerome will be offered in four parts on Wednesdays and Saturdays from 10am to 3pm at the Lumberyard Arts Center.
Quilting Basics Part 1 -- Wed., Sept 7 or Sat., Nov 12
Basic instruction on straight piecing and half-square triangles. Overview of rulers, notions, and lots of tips. Great refresher!

Quilting Basics Part 2 -- Wed., Oct 5 or Sat., Nov 19
Adding Flying Geese and Diamond in a Square units will add new variations to your quilting skills.

Quilting Basics Part 3 -- Wed., Nov 2 or Sat., Jan 7
Take the fear out of sewing curves by adding Drunkard's Path curved piecing to your

repertoire

.

Quilting Basics Part 4 -- Wed., Dec 7 or Sat., Jan 21
Putting it all together--add sashing, cornerstones, and borders to turn your blocks into a complete quilt top. Discussion of batting choices, backings, and the quilting process.

Fusible Applique -- Sat., Sept 17
Join Sharon at Quilters' Paradise for a beginning class on fusible applique. Trace your design, fuse the fabrics, and stitch them down.

T-Shirt Memory Quilts -- Wed., Sept 21
Whether the t-shirts were saved from school sports, musical theater, vacations, or other activities, you can turn those piles of shirts into t-shirt quilts that are filled with memories and love.

Foundation Paper Piecing -- Wed., Oct 19
Jump start your quilting to a new level by learning how to foundation paper piece! This technique allows you to create more complex blocks with shapes that aren't easily traditionally pieced. By learning the basics, you can then take on larger projects with knowledge and helpful tips.

Barn Quilt Block Workshop -- Sat., Oct 29


Create your own painted barn quilt block that can be hung inside or out with Laura Davids. Workshop includes instruction in the painting process.



Scared Stitchless to Free Motion Quilt -- Wed., Nov 16


Take the fear out of dropping your feed-dogs

in this introduction to free motion quilting on your domestic sewing machine.


---

Quilters' Paradise taking part in the
Alison Glass 2022 Mini Series Sew Along
The 12 patterns are now in stock at Quilters' Paradise and can be purchased as the Alison Glass Mini Series Sew Along 2022 Pattern Set.
A collection of cool blue batiks with a gray batik background is available as our .
Get 15% off now through December 1 on this fabric kit by using discount code LR7N6.
Enjoy making these mini foundation paper pieced blocks on your own or join the online Mini Sew Along social media community through Alison Glass's website at

2022 Mini Series Sew Along Landing Page. The MMSAL runs from

Sept 1 to Nov 20

. For a nominal fee of $10, you can officially join the sew along by signing up at 2022 MSSAL Sign-Up page to receive directly from Alison Glass two bonus block PDFs, a participation patch, a finisher pin if all blocks are completed and shared on Instagram by the Nov 20 due date, opportunities to win prizes, and receive special MMSAL newsletters.
---

We're so glad you're here!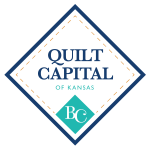 Check out our website for new arrivals, top sellers, and sale items!
These emails will give you the best and most recent information you need!
Keep in touch with us by visiting our website!
Don't forget to follow us on Facebook and Instagram, too!