Skip Navigation
Website Accessibility
SURPRISE! Two Saturday Sales in August at Quilters' Paradise!
our website
Welcome!
25% Off Sale for August 2022
Saturday, August 20
AND
Saturday, August 27

Due to the annual Smoke on the Bricks event being held the 4th Saturday that will block off downtown and make it harder to get to the shop, we are expanding the typically 4th Saturday Sale to both the 3rd and 4th Saturdays this month only.

Stop in to see what's new in fabrics, notions, books, patterns, and more and save 25% on nearly everything in the shop!

We look forward to seeing you on either the 3rd or 4th Saturday, August 20 or 27, or both!

Be advised that on the 4th Saturday, August 27, access to downtown Baldwin City will be blocked due to the Smoke on the Bricks barbeque competition that will be host to nearly 50 competitors! If you shop on August 27, you can also enjoy some of amazing barbeque when you're in town.


---
Watch for another newsletter with updates on classes for fall and other happenings at Quilters' Paradise soon!


---

We're so glad you're here!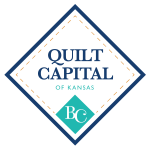 Check out our website for new arrivals, top sellers, and sale items!
These emails will give you the best and most recent information you need!
Keep in touch with us by visiting our website!
Don't forget to follow us on Facebook and Instagram, too!