Welcome!
Saturday, July 23 is the next
Monthly 4th Saturday 25% Off Sale
Saturday hours: 10:30 to 2:30

Stop in and save at our monthly 25% off nearly everything in the shop sale. Explore the new lines, patterns, and notions, as well as stock up on wide backings and more.
---
Sharon will be sharing a favorite recipe each month.

Blueberry Muffins




Ingredients:




2 c. flour

*


1 1/2 c. sugar




3/4 c. shortening




2 tsp. baking powder




1 c. milk




1 tsp salt




1 tsp. vanilla




1 1/2 c. blueberries





Preheat oven to 375 F. Blend flour, sugar, shortening. Take out 1 cup and reserve. Mix in baking powder, milk, salt, and vanilla. Fill muffin cups half full. Top each muffin with blueberries and part of reserved mixture. Bake at 375 F for about 18 min.




Fresh or frozen blueberries are the best. Thaw and drain frozen berries.





*Sharon makes gluten-free muffins by substituting gluten-free flour mix for the flour. The recipe contains no egg, so people with egg allergy can eat them.




---
Classes!

We have a whole lineup of fall classes starting in September, plus two open quilting/stitching studios each month, all on Wednesdays. Stay tuned as the details get ironed out and we begin promotion and enrollment!


A great One Block Wonder Art Quilt class was held with four students. This week we had six attend the open quilting studio to continue with their OBW projects or to get help on new projects. We hope to see more participation in both classes and open studio sessions this fall!
---

We're so glad you're here!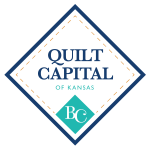 Check out our website for new arrivals, top sellers, and sale items!
These emails will give you the best and most recent information you need!
Keep in touch with us by visiting our website!
Don't forget to follow us on Facebook and Instagram, too!