Skip Navigation
Website Accessibility
QP Updated Class List
our website
Welcome!
Classes at Quilters' Paradise!
The following classes have been updated with correct dates and links to their respective pages on the Quilters' Paradise website. More classes will be added in late summer and into the fall including a Beginning Quilting series. Stay tuned!

We are grateful for the partnership between Quilters' Paradise and the Lumberyard Arts Center! Their assistance in promoting quilting within our community as the Quilt Capital of Kansas and the ability to use their larger classroom/studio space for most of our classes is a blessing to us all. Please continue to support the arts in Baldwin City.
Please register in advance for any class or open studio sit & sew session. You can register online at the
shop website Classes page
, by following the individual class link below, or by calling the shop at (785) 594-3477. Class listings state whether they will be held in the classroom at Quilters' Paradise (QP) or at the Lumberyard Arts Center (LAC).
Introduction to Hand Quilting with Sharon at QP
Tues., June 7, 1:30-3:30
Class fee: $20 plus $25 kit fee
Learn the basics of hand quilting with Sharon Vesecky. Review and compare equipment needed. Compare different kinds of batting and their suitability to hand quilting. With Sharon's years of experience, she will share tips and tricks.
Jelly Roll Junction--Skills Review with Liz at LAC
Wed., June 15, 10-3
Class Fee: $45 plus pattern & fabric


What looks complicated is actually quite simple! By strip piecing jelly roll strips and then cutting them into triangles to sew back together into amazing blocks you'll create this gorgeous quilt top. Great beginner class or basic skills review!
Not Your Basic Blue Bag
with Laura at LAC
Mon., June 20, 10-3
Class fee: $45
Who doesn't love those giant blue IKEA bags? This version has the same hauling capacity but is so much prettier (and sturdier too)! You pick the size you want LARGE (original)-medium-small. You will construct the bag during class and leave with a finished NYBBB! You will need NYBBB Pattern-available from the shop, additional materials list available upon class registration.
Tuffet Making
with Laura Davids at LAC
Purchase fabric of your choice separately.
Tuffet pattern with foundation: $36
Tuffet kit with two classes: $195
Class 1: Wed., June 22, 1-4
Class 2: Tues., July 12, 1-4
Create this darling Tuffet in two 3-hour sessions with Laura. At the first class you will be sewing and learning the technique to make the foundation pieced Tuffet cover. Complete your tuffet cover before the second class. At Class 2 we will put it all together. Tuffets can be whimsical, elegant, scrappy, or made to match any decor. Every little girl needs a Tuffet, even grown up ones!
One Block Wonder Art Quilt with Liz at LAC
Wed., July 13, 12:30-5:30
Class fee: $45 plus $12 pattern


Using a single fabric cut into equilateral 60 degree triangles, you can make your own unique art quilt! Six repeats of the fabric get stacked in matching layers, cut into strips, then into sets of 6 matching triangles. Loads of tips on sewing the units together and layout in this fun class!
The
Open Studio Quilting
open all!
Class fee: $10


Come sit & stitch with Liz in the Lumberyard Arts Center classroom
.
Due to limited space we request you pre-register online. Bring your machine, a project to work on, a snack for lunch, and a cushion for your chair.
Wed., June 1, 10-3
Wed., July 20, 10-3
Wed., August 3, 10-3
---

We're so glad you're here!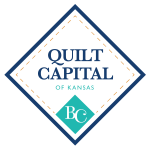 Check out our website for new arrivals, top sellers, and sale items!
These emails will give you the best and most recent information you need!
Keep in touch with us by visiting our website!
Don't forget to follow us on Facebook and Instagram, too!