Welcome!
Way After Christmas Sale!!!
Friday & Saturday, February 25 & 26, 2022
40% Off Fabrics (some exceptions for new arrivals)


4th Saturday 25% Off Sale




Saturday, February 26, 2022


25% off nearly everything else in the shop!

*** IN STORE ONLY ***

That once a year event is back! The Quilters' Paradise Way After Christmas Sale is this weekend! Both Friday and Saturday get 40% off fabrics, with few exceptions for new arrivals. Come by the shop for great savings!

Couple that with the 4th Saturday 25% off Sale for nearly everything else in the shop and you can save even more on Saturday only!

Help us empty some bolts to make room for more. There are always new fabrics, patterns, books, and notions coming into the shop. We hope you'll take advantage of this great yearly opportunity to save big!



*** IN STORE ONLY ***



---
Scrambled Celebrations BOM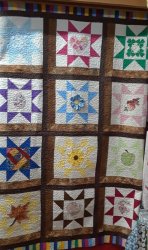 Join Sharon Vesecky on an adventure for the 2022 Shop Block of the Month. Instead of making the blocks in the order of the months, they have been scrambled! You'll make March's Shamrock in January, December's ornament in February, and so on. Such fun! By the end of the year you'll have a great quilt that could be displayed or used all year long.

Every block is a 12" finished Sawtooth Star with a 6" special center. Sharon will guide you through machine applique, hand embroidery, silk ribbon embroidery, dimensional applique, a crazy quilt block, needle-turn applique, broiderie perse (Persian embroidery), foundation paper piecing, fusible applique, a pieced maple leaf, a crayon colored block, and reverse applique.

Deadline to sign up for the 2022 Scrambled Celebrations is March 15.
The first months kits will be made to get you caught up in no time!

---
2022 Ruler of the Year
Triangle in a Square by Bloc Loc
We

are

already making new projects using the Triangle in a Square ruler by Bloc Loc, our 2022 RULER OF THE YEAR, showing the versatility and fun this ruler can provide! Sharon used it in her freshly quilted Tennessee Waltz shown here while still on the quilting machine.

There are four sizes of TIS ruler sets in the shop to choose from so you can play along with us all year.
You'll see the TIS block used in the quilts made for both the Ad Astra Adventures

"On the Trails" quilt Shop Hop (to be revealed the weekend of shop hop) and the All Kansas & Nebraska Shop Hop.

---
Shop Hops are Almost Here!

Ad Astra Adventures
"On the Trails - A Kansas Quilt Shop Hop"
Wed, Thurs, Fri, March 30-April 1, 2022 from 9am to 6pm
Sat, April 2, 2022 from 9am to 4pm

Eleven great shops participating!
Harper's Fabric & Quilt, Overland Park
KC Maker Studio & Fabrics, Mission
Li'l Red Hen Quilt Shop, Paola
Overbrook Quilt Connection, Overbrook
Prairie Point Quilt & Fabric Shop, Lenexa
Quilters HQ, Overland Park
Quilters' Paradise, Baldwin City
Quilting Bits & Pieces, Eudora
Sarah's Fabrics, Lawrence
The Quilted Sunflower, Spring Hill
Yellow Dog Quilt Company, Pomona

Be sure to check out each of these shop on your hop! Sew much fun to be had visiting old favorites and new-to-the-hop shops!


All Kansas & Nebraska Shop Hop
April 1 through May 31, 2022
The All Kansas & Nebraska Shop Hop magazines are arriving in shops this week and will be available for sale on Friday, Feb 25! The hop-specific fabrics are also arriving in shops. The fabrics may be pre-ordered for pickup when the hop begins April 1. Laura used some hop fabric to make this great bag that will be a door prize at the end of the hop (contents not included).



Plan your hopping with the passport and map of shops in the magazine. No need to rush--there are two full months of shop hopping across Kansas and Nebraska to give you plenty of time to visit the 79 unique quilt shops. Keep the magazine handy all year as it will be a great reference for finding shops in all of your travels.


More exciting information will be shared in a separate newsletter, so stay tuned...
---
With spring approaching it's Tuxedo Time again!

Whether it's for prom or an upcoming wedding or other special occasion, you can rent your tuxedo from Quilters' Paradise starting at $99.95. Drop by the shop to look at the catalog of options and get measured. Many options and accessories to pick from for your own perfect look!


---
Northcott's "For The Brave" Event


Starting in March, 2022, Northcott Fabrics will be celebrating the 10th anniversary of the Stars & Stripes collection. There will be a quilt-along, contests, and giveaways. Learn more at Northcott's For The Brave FAQ


---
We're so glad you're here!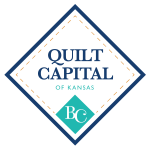 Check out our website for new arrivals, top sellers, and sale items!
These emails will give you the best and most recent information you need!
Keep in touch with us by visiting our website!
Don't forget to follow us on Facebook and Instagram, too!