Welcome!
Saturday, January 22, 2022
4th Saturday 25% Off Sale!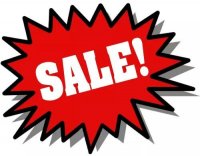 Brave the cold and come out to save this weekend at the first 4th Saturday 25% off sale of 2022!
There are always new fabrics to browse through, as well as patterns, notions, books and more.

Please wear your mask. Douglas County is currently under a mask mandate to help curb the rising Covid-19 numbers.

---
Upcoming Classes!

We're starting 2022 off a little slower to do our part to mitigate the continuing Covid-19 spread, as well as avoid having to reschedule in case of snowy or icy weather. Our classes will be held in the studio/classroom at the Lumberyard Arts Center unless listed otherwise. To start the year we want to welcome you to a new monthly open sew day!

Monthly Quilters' Open Sew
Lumberyard Arts Center
3rd Wednesdays from 10am to 2pm


$10 drop-in fee

-- Come for an hour or stay all day!
(Inclement weather may cause cancellations)
Bring your machine and a project to work on. Do you need help with a project to move it along closer to finished? Liz Granberg-Jerome will be there to offer assistance as we encourage each other to finish up some UFOs in 2022!

Be sure to stay tuned as classes for new quilt techniques and projects will be coming as we inch closer to spring.

---
Introducing our 2022 Ruler of the Year!
Triangle in a Square

Do you avoid buying a specialty ruler because you'll only use it in one project? Us, too. We prefer our rulers get a lot of use. During 2022 we will be focusing on the many uses of our RULER OF THE YEAR!

Our pick for the 2022 Ruler of the Year is… Triangle in a Square (TIS) from Bloc Loc! We will feature projects all year long dedicated to this ruler set. Some were designed for this ruler, some are traditional blocks tweaked, some are new designs. We have four sizes of TIS ruler sets in the shop for you to choose between so you can play along with us all year.

The first project of 2022 is "Cosmos" from Janna Thomas that is in the "TIS Fantastic!" book. We used the 3" finished TIS set to create this throw.


Watch for more TIS projects and classes in coming months!

---
Quilters' Paradise 2022 Shop Block of the Month
Celebrate the Year!
designed by Sharon Vesecky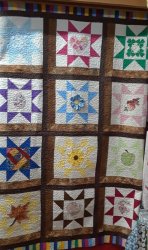 Join Sharon in making

Celebrate the Year

!, this darling 12 block sampler as the Quilters' Paradise 2022 Shop BOM. Each month's block features a different technique so there's lots to learn this year!
Sign-up only through March 1. Monthly cost $12.
Kits may be mailed for an additional $4 per month to cover postage.

---
Save the dates for the
Ad Astra Spring Quilt Shop Hop
March 30-31 and April 1-2, 2022

Eleven great shops in northeast Kansas!
Loads of fun hopping!
Watch for more details coming soon!

---
Get ready for even more shop hopping!
All Kansas and Nebraska Shop Hop
April 1-May 31, 2022

Two full months of shop hopping across Kansas and Nebraska will take you to 79 unique quilt shops you might not have visited before! As you prepare to hit the road, be sure to pick up a copy of the All Kansas & Nebraska Shop Hop magazine so you can plan your hopping. No need to rush as there's two full months to hop! Keep the magazine handy all year as it will be a great reference for finding shops in all of your travels.


Inside you'll find your Official Passport and Map of Shops, patterns, articles, how to win prizes, and more! Each person in your party will need a passport in order to register for prizes. The magazine will be available for purchase in February at Quilters' Paradise and other participating shops.
---
For The Brave Quilt Along


details coming soon...
Before you go, be sure to watch for our next email with details on Northcott's "For The Brave" 10-month quilt along from March to December 2022 honoring the 10th Anniversary of their Stonehenge Stars & Stripes collection. There are lots of ways to participate, prizes to be won, and more. With so much information to sift through, we want to be sure to share all the best details with you. Stay tuned...
---
We're so glad you're here!
Check out our website for new arrivals, top sellers, and sale items!
These emails will give you the best and most recent information you need!
Keep in touch with us by visiting our website!
Don't forget to follow us on Facebook and Instagram, too!