4th Saturday 25% Off Sale
September 25, 2021, 10am to 5pm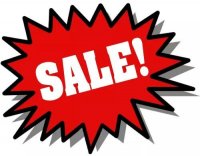 Our monthly 4th Saturday 25% Off Sales continue, this month on Saturday, September 25. Nearly everything in the shop is 25% off! There are always new fabrics, patterns, notions, and so much more! Be sure to stop by to save!

---
Maple Leaf Festival & Quilt Show
October 16 & 17, 2021

Maple Leaf Festival is back the third full weekend of October! The Maple Leaf Quilt Guild will be hosting the annual quilt show during festival at the Baldwin Elementary Intermediate Center gym.
To enter quilts in the show, please submit your entries by September 30 to Quilters' Paradise or by mail or email to Andrea Newton (contact info on the registration form). One entry form per quilt, please. Download the form by clicking "Register Now" at
mapleleaffestival.com/quilt-show
.
All quilts must have a 4" hanging sleeve--stitched on or securely pinned on with safety pins.
The Maple Leaf Quilt Guild's Opportunity Quilt
Buy your chance to own this gorgeous quilt, $1 per ticket, $5 for 6 tickets. Drawing will be held at the Maple Leaf Festival quilt show on Sunday afternoon.


The Community Relief Fund donation quilt will be at the Maple Leaf Festival quilt show for you to add more quilting stitches. With your help we can complete it in time to draw the winner at the Baldwin City Festival of Lights on December 1, 2021! Don't forget to buy your chance to win this quilt and support your city relief fund!
---
Travel throughout the Kaw Valley on
the 2021 Kaw Valley Farm Tour
Saturday, October 2 from 9am to 6pm
Sunday, October 3 from 10am to 5pm
Visit 30 farms, including several yesteryear locations from the Ag Heritage Tour that have been incorporated into the weekend event. Family farms, Wineries and Vineyards, A-Z Alpacas to Zucchini! And everything in between. This is a self-guided tour. Purchase your tickets online or at participating farms. $10 per carload and good for both days

Vesecky Family Farms will have

(free) hay rack rides. Face masks are suggested and social distancing is to be observed. We are not serving breakfast this year but Linda's Sweet Delights will be here with her delicious cinnamon rolls. We will have beverages (coffee, water, soft drinks, juice packs) available. For lunch we will have our usual weiner roast (hot dogs/brats) complete with smore kits!



We will have frozen chickens ($3.20/lb.) and ducks ( $6.10/lb.) available for purchase during the tour.

Hope to see you there!

---
Vesecky Family Farm is accepting orders for
Thanksgiving and Christmas Turkeys
The heritage

turkeys

are $4.60/lb and the white broad-breasted

turkeys

are $3.50/lb.

They will be ready to pick up at the farm the weekend before Thanksgiving. Please e-mail veseckyfamilyfarms@yahoo.com or call 785-594-2493 or 785-594-3477 to reserve your

turkey

.
This year we are adding "

turkey

parts". They must be ordered by October 21 to be sure that they are available. We will have only a few white broad-breasted birds cut up. When they are gone we cannot get more cut up until next year.
Turkey

breast, 2 pieces per package $8.00/lb.

Turkey

thighs, 2 per package $5.00/lb.

Turkey

legs, 4 per package $4.00/lb.

Turkey

wings, 8 per package $2.45/lb.
---
Ad Astra Quilt Shop Hop presents
The 2021 Jingle All the Way Kansas Quilt Shop Hop
November 4 & 5 from 9am to 6pm and November 6 from 9am to 4pm
Visit all ten great shops to get your passports stamped to qualify for the grand prize!
How to participate in the 2021 Jingle All the Way Shop Hop!
1. Go to each of the 10 shops, get your passport stamped and turn it in for a chance to win serious gift certificates!
2. Go to each of the 10 shops and enter their in-store drawings!
3. Go to each of the 10 shops and purchase their four-pack of 10" squares. Forty different fabrics to collect to make a custom Layer Cake.
4. Fall in love with one or more of the projects and use your custom made Layer Cake to complete the project.
5. Any combination of the above!

Remember, you don't have to go to every shop to join in the fun, but you DO have to go to every shop to be entered to win gift certificates! The Grand Prize is a $50 Gift Certificate to EACH shop. That's $500 worth of fabric goodness up for grabs!
---
We're so glad you're here!
Check out our website for new arrivals, top sellers, and sale items!
These emails will give you the best and most recent information you need!
Keep in touch with us by visiting our website!
Don't forget to follow us on Facebook and Instagram, too!