Skip Navigation
Website Accessibility
Sale Saturday, Shop Hop, Easter Hours!
our website
Welcome!
SALE TIME AGAIN!
4th Saturday 25% Off Sale!
Saturday, March 27, 2021
It's a great time to pick up backing for the tops you've pieced while staying safe at home! Nearly everything quilt related in the shop is on sale, so be sure to stop in for supplies, inspiration, and more fabric, of course!
Please wear a mask while in the shop.
---

For those who have been waiting...
Generic Rotary Cutter Blades
10 packs of 45mm blades
are back in stock!
---
Quilters' Paradise will be CLOSED
Good Friday, April 2 and
Easter Saturday, April 3
---

Who's Ready to HOP!?!
Ad Astra Quilt Shop Hop
April 7-10, 2021
9:00am to 6:00pm Wed, Thurs, Fri
9:00am to 4:00pm Sat
8 Great Shops in Northeast Kansas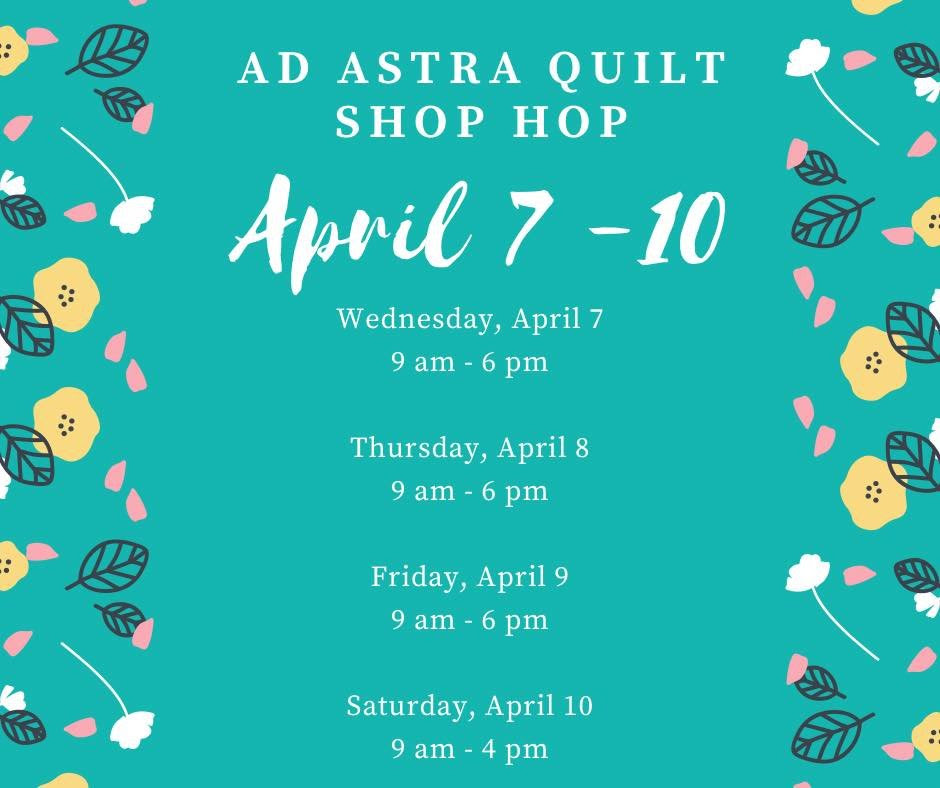 Did you know you can win prizes during the Ad Astra Shop Hop? At each store, there will be a spin to win and a door prize drawing!! Plus, everyone who gets their passport stamped at each of the eight participating stores and turns their passport in will go in the drawing for the Grand Prize and Runner-Up Prizes!!
Pick up your passport at any one of these great quilt shops! Plan your trip to visit each one to get your passport stamped.
---
We're so glad you're here!
Check out our website for new arrivals, top sellers, and sale items!
These emails will give you the best and most recent information you need!
Keep in touch with us by visiting our website!